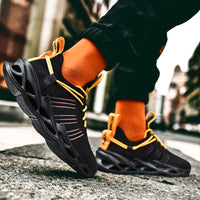 Walk In Your Style,The Power To Be Yourself
Explore our Shoe Collection with many different variants choose your style you want to walk your path to a beautyful and stylish life.
SHOP NOW
6 Ways How To Look Classy
Title: Elevate Your Wardrobe: 6 Essential Strategies for Achieving a Classy Men's Look
Class and elegance are qualities that never go out of style. Transform your appearance into a timeless symbol of sophistication with these 6 indispensable tips:
Masterful Tailoring: The foundation of a classy look lies in well-fitted clothing. Invest in pieces that flatter your body type and have them professionally tailored if needed. Whether it's a crisp suit or a casual blazer, the right fit instantly exudes elegance.
Monochromatic Mastery: Embrace the power of monochrome outfits. Coordinating shades of black, gray, navy, and white creates a seamless and refined appearance that's effortlessly stylish.
Quality First: Opt for quality over quantity. Choose garments made from superior materials that promise longevity. Not only do these pieces age gracefully, but they also reflect your discerning taste.
Art of Accessories: The right accessories can elevate your look to a new level. A classic watch, a tasteful tie, and a well-crafted leather belt demonstrate your attention to detail and refine your ensemble.
Footwear Finesse: Shoes are a cornerstone of classiness. Invest in versatile, high-quality footwear such as leather loafers, oxfords, or suede chukka boots. Ensure they're well-maintained for an extra touch of elegance.
Confidence Personified: True elegance emanates from within. Carry yourself with confidence and grace, as good posture and self-assuredness enhance any outfit.
Remember, the key to achieving a classy appearance is authenticity. Tailor these tips to suit your personal style, allowing you to embody sophistication effortlessly. By embracing timeless tailoring, monochromatic shades, quality pieces, refined accessories, exquisite footwear, and a confident demeanor, you'll set a new standard for sophistication in every setting.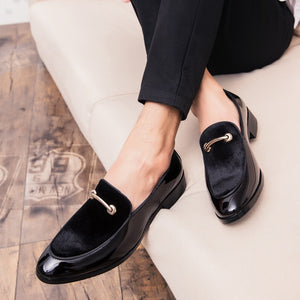 Elevate Your Style: The Ultimate Guide to Rocking Loafers
Loafers, the epitome of timeless elegance and versatility, have cemented their status as a must-have staple in every modern man's wardrobe. These slip-on wonders effortlessly bridge the gap between casual and formal, making them the go-to choice for various occasions. If you're ready to exude sophistication while maintaining comfort, here are the best ways to wear loafers and take your fashion game to the next level.
Casual Cool: Pair your classic leather loafers with well-fitting chinos or dark jeans for a relaxed yet put-together look. Add a tailored blazer or a smart knit sweater for an extra touch of refinement.
Business Casual: Opt for suede loafers in earthy tones, like tan or navy, to complement your tailored trousers and button-down shirts. This combo strikes the perfect balance between professional and relaxed.
Summer Vibes: Embrace the warm weather with loafers by going sockless. Slip on a lightweight linen shirt, cuffed shorts, and a woven belt for a breezy, vacation-inspired ensemble.
Monochromatic Magic: Create a sleek, modern appearance by selecting loafers in the same color family as your pants. Black loafers with black trousers elongate your silhouette, while brown tones offer a warm contrast.
Statement Socks: If you're feeling adventurous, experiment with patterned or colored socks for a playful twist. Let them peek out slightly from your loafers to add personality to your outfit.
Formal Finesse: When attending a more upscale event, go for tassel loafers or penny loafers in polished leather. These styles effortlessly complement suits, delivering an air of sophistication.
Smart-Casual Charm: Dark denim, a crisp white shirt, and a lightweight blazer work wonders with loafers for an effortlessly chic smart-casual ensemble.
Remember, the key to mastering the art of wearing loafers is to prioritize comfort while maintaining a polished appearance. Choose loafers that suit your personal style and the occasion, and don't be afraid to experiment with different combinations to create looks that truly reflect your unique flair. With these tips in mind, you'll effortlessly step up your fashion game and leave a lasting impression wherever you go.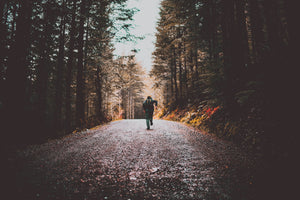 Mastering Fall Fashion: How To Look Stylish in Everyday Outfits
As the leaves start to change and the crisp autumn air sets in, it's time to transition your wardrobe and embrace the essence of fall fashion. From cozy layers to versatile accessories, nailing your everyday outfit in autumn is easier than you think. In this guide, we'll show you how to look stylish in everyday outfits this fall, incorporating key fashion keywords to elevate your seasonal wardrobe.
Layering with Flair: Embrace the art of layering by combining classic pieces like a well-fitted crewneck sweater, a tailored jacket, and a stylish scarf. Layering not only adds dimension to your outfit but also keeps you warm and comfortable as the temperatures drop.
Versatile Outerwear: Invest in a versatile outerwear piece like a tailored pea coat or a sleek leather jacket. These items not only offer warmth but also effortlessly elevate your look from casual to sophisticated.
Fall-Inspired Colors: Incorporate autumnal hues like deep burgundy, forest green, and warm mustard into your outfits. These colors not only complement the season but also add depth and richness to your ensemble.
Accessorize Smartly: Don't underestimate the power of accessories. A stylish leather belt, a well-crafted watch, or a cozy beanie can make a world of difference in enhancing your fall look.
Denim Done Right: A well-fitted pair of dark wash jeans is a fall essential. It's a versatile piece that can be dressed up with a blazer or dressed down with a casual knit sweater.
Footwear Finesse: Opt for sturdy yet stylish footwear like leather boots or suede desert boots. They not only keep your feet warm and dry but also add a touch of rugged sophistication to your outfit.
Texture Play: Incorporate different textures into your ensemble, such as a tweed blazer, a chunky knit scarf, or a corduroy shirt. Texture adds visual interest and depth to your outfit.
By blending these fall fashion tips seamlessly into your everyday outfits, you'll effortlessly exude style and confidence as you navigate the autumn months. Remember, the key is to strike a balance between comfort and elegance. So, embrace the changing seasons and let your fashion choices reflect your impeccable taste. Fall is the perfect opportunity to showcase your style prowess and create unforgettable looks that resonate with the season's aesthetic.